Across the country high school seniors are graduating. In the South the graduations have already begun. In the North June tends to be graduation month. That means families getting their students ready for Matriculation Day at The Citadel are turning their focus to getting things for their soon-to-be Knob.
The school will post an updated list of items the new students are required to have. (you can view the previous year's information on page 6 of this document. it changes very little from year to year.) The Citadel Family Association also has a list of items that families have found helpful to have. It is called the "Nice to Have List." You do not need everything on the Nice to Have List. Parents should ask their student what they would like from that list since they will be the ones to go through the 4th Class System.
I will pause here to give a word of advice to parents. Your student will be attending a leadership school. I've written previously about what I learned about what that means. The hardest, but most regarding lesson for parents of cadets is this, your student will have to be the one to navigate the rules and regulations of the school. You can help them get ready to report, but once they are on campus the students are the ones who must take control of their process. Your role will move from one of guiding and teaching your child, to the role of encourager and support person. You WILL NOT be able to navigate the system for them day to day.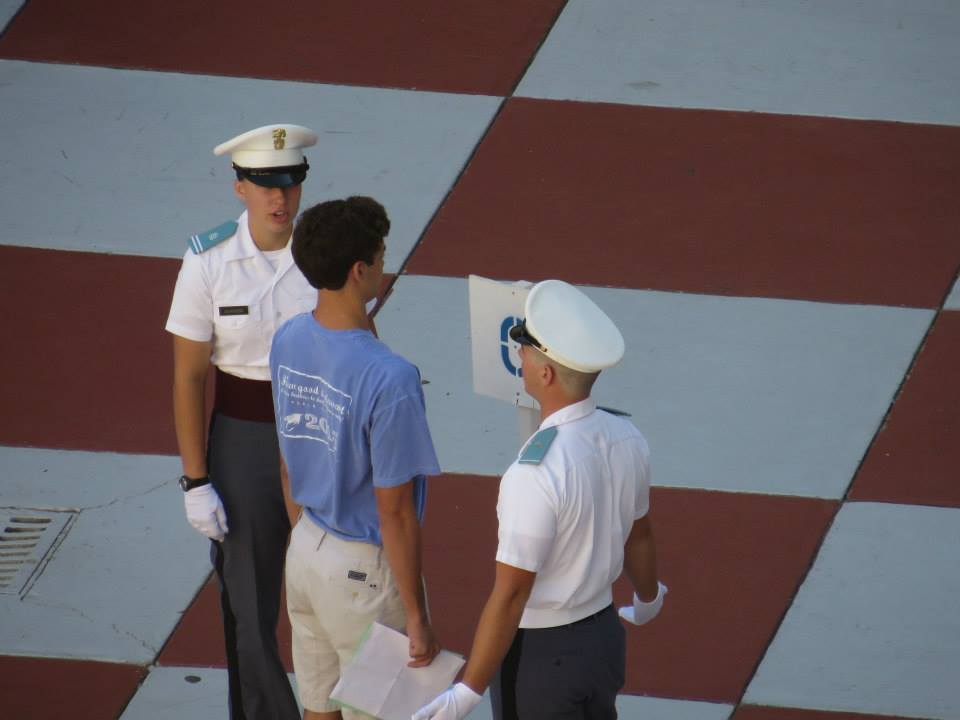 This first year is a rollercoaster of emotions for the knobs. My advice to parents is to avoid getting on that rollercoaster with your student. Obviously you will be concerned, but try to remember that the challenges your student will encounter are learning experiences for them. You will be the only one they can confide in and vent to this next year. Often times the knobs will vent to a parent, leaving the parent worried, while the knob moves on and never tells the parent they've resolved the issue.
In the next several months local alumni groups sponsor "Send Off events" for incoming knobs and their families. You can check with the Citadel Alumni Association to see if the club in your area will host an event. The Citadel Family Association also has area reps who are current parents who volunteer to help the new parents. you can find a list of the Area Reps here. The Atlanta Citadel Club has asked me to serve as the chair of the new Parent Committee. We will have a parent orientation meeting in June then the club will host a send off event August 4. Contact me if you'd like additional information. 
There are three things an incoming knob can do NOW to prepare for the next year: (The office of the Associate Provost for Academic Affairs also has a good list for incoming knobs. You can access the link HERE.)
Make sure you can meet, or better yet, exceed the Physical Training requirements.
Buy and wear your black plain toe Oxford shoes (MUST be Polishable leather) and your 8″ desert boots.  Now through May 28 you can get 35% off site wide when you use the promo code EXTRA35.
Begin to memorize the Knob Knowledge in the Guidon. It is available online or in the bookstore. You'll get a copy when you report.
Parents often wonder about company assignments and roommates. The majority of cadets will find out their company and roommate on Matriculation Day. The athletes who report in July will all stay in the same barracks then move to their regular company assignments in August when the Corps of Cadets report. Unlike other colleges cadets will change rooms through out the year. The moves can be for a variety of reasons.
If you live out of state and don't want to ship the items to campus, you can order times from Bed, Bath and Beyond or Wal-Mart and pick them up from the stores in Charleston. If you choose this option you will have to arrive in town before Matriculation Day. If you ship items to campus it is a good idea to arrive Friday morning to retrieve them from the warehouse on campus. Contact the warehouse directly with any questions about shipping items in advance.
I know it is a very stressful time for parents who do not have a military background or do not have a history with The Citadel. I was in your place in 2007. Much of what happens seems really strange. As my son would tell me every time I would question something, "There is a reason behind everything we do." It is the knobs challenge to learn these reasons. A parent needs to encourage and support them in the process.
If you are the parent of an incoming knob, please join the group for 2020 parents on Facebook to meet fellow parents and to have a safe place to ask questions. Go to the page and request to join, then end me an email to confirm you are the parent of an incoming knob. [email protected]
Previous posts about Knob Year
Matriculation Day: Getting Ready
Matriculation Day: Reporting in that first day
Preparing for Knob Year: Parents Edition
The Citadel: Unofficial Tips for Families of Incoming Knobs