Catching up
It's been over a month since my last entry. After the very emotional experience as a juror for a murder trial, the sad news of a cancer diagnosis for one of the Top Nine Cadets at The Citadel was released. After corresponding with his family a YouCaring fundraising site was launch for Jesse Ray Nardone. The original goal of $10,000 was reached within days. you can read about the needs the family has to cover and updates on Jesse Ray's health on the YouCaring site.
A week or so after the fundraising site was posted, I had a scheduled cardiac catheter ablation. It is taking me a little longer than I had anticipated to bounce back after the procedure. Fortunately I feel pretty well, but I just don't have the stamina to do too much yet.
Parents Weekend at The Citadel
For my readers who are Citadel parents this is an exciting week. By now I hope you have seen the very helpful information posted to the parent page on the citadel.edu web site. In years past I've written a run down of the vents each day of Parents Weekend. Thanks to Capt. Taylor Skardon in the office of the provost that was not necessary this year. There is an overall post and individual pages for each day, Friday, Saturday, and Sunday. The Citadel Family Association (CFA) has also revamped their website with helpful information. Be sure to read the pages and click on all the links.
The weather is looking iffy thanks to hurricane Matthew. Be sure to watch the weather channels to know how to pack. Also check the school web site for any announcements should the storm end up tracking toward the SC coast. It is still early to know what will happen weather wise. The school administrators keep a close eye on weather conditions and will post updates as they can so watch The Citadel website, the school's Facebook page and the Bulldog Alert page. To read the school's protocol for hurricanes see this link.
I won't be making the trip to Charleston for Parents Weekend this year. Our daughter is a high school senior and it is her last Homecoming celebration. I look forward to seeing everyone's photos and hearing your stories. Best wishes to the Class of 2017 on receiving your rings on Friday.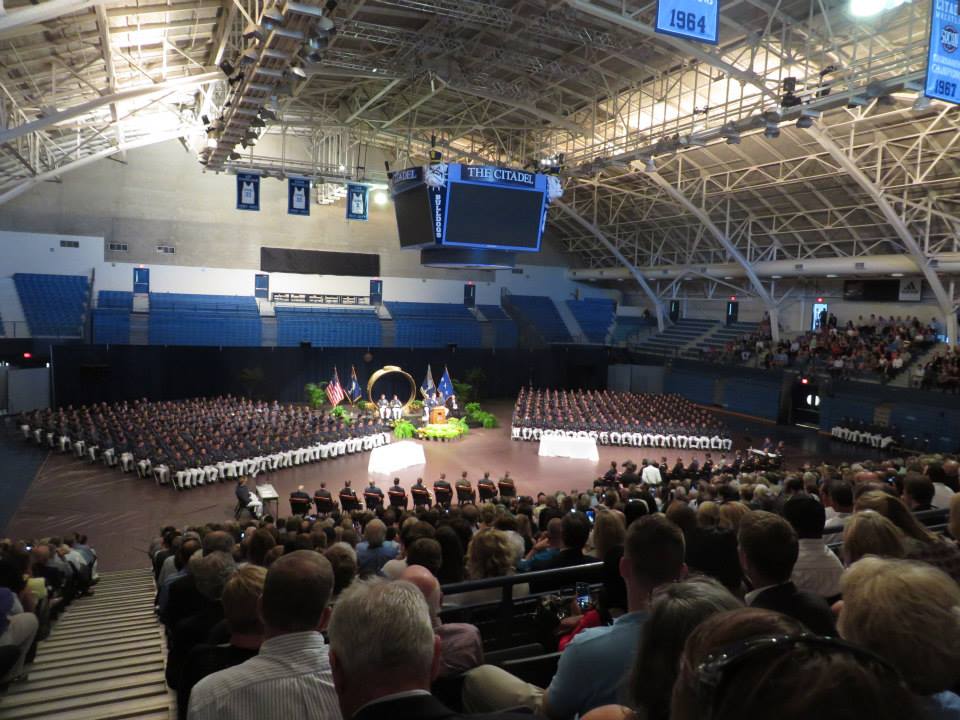 For the families of 2020 cadet recruits enjoy every minute of your time together it goes by in a blink of an eye.
Previous posts about Parents Weekend (see these links for photos):
Parents Weekend 2014 and 2014 Tips