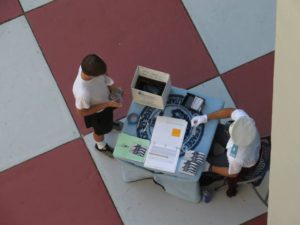 ***2/10/2019 Please note: I am no longer updating the blog posts for Citadel parents. See the official school website for the most up to date information***
Each year about this time in the Facebook group for new parents some parents post that they are really stressed about the preparation. I try to be as caring as  can be and encourage these parents to begin to let go of the process and encourage their student to do the prep work necessary.
Since tuition is now really high, especially for out of state students, I understand the need for families to monitor expenses and to be concerned with the purchases needed to report to The Citadel.
For many alumni who tell tales of their parents dumping them at the gates and driving off on matriculation day these parental concerns confuse them. Sending a student to The Citadel today is a major investment. Out of state tuition is over $40,000 a year. Most families must watch their expense and it is a team effort to meet the expenses.
With that background I offer a few tips for new parents:
The Citadel is a leadership college. That means in addition to their academic major they will be learning leadership skills. Parents need to learn to step back and let their student take charge of their process. This includes getting everything gathered to report on Matriculation Day. Once they report you will not have any control of how your student handles their training. Start practicing letting go now.
The new parent Facebook groups help with basic questions and support. Do not spend your time trying to get everything "just right." Each cadet and family are different there is not one right way to get ready for Matriculation Day. The future knob must prepare physically and mentally for the big day. They need items on the Success Packet list and should break in their shoes. How those things come together with vary with each person.
Last year the father of a knob sent me a video clip from Finding Nemo. In the clip a small sea turtle, Squirt, gets thrown out of the current. Nemo's dad, a clown fish named Marlin panics and tries to go after Squirt. Marlin is stopped by Squirt's laid back dad, Crush, who says, "Kill the motor dude. Let us see what Squirt does flying solo." As a parent be like Crush, not Marlin. Do not try to intervene with your knobs experience. You'll be amazed at what they can do "flying solo."
The staff and cadet cadre have a strong tradition of training young students and molding them into strong cadets. Allow the process to work. If at any time you have concerns or questions, contact the parent liaison, Capt. Taylor Skardon, [email protected]. or one of the three Ombudspersons.