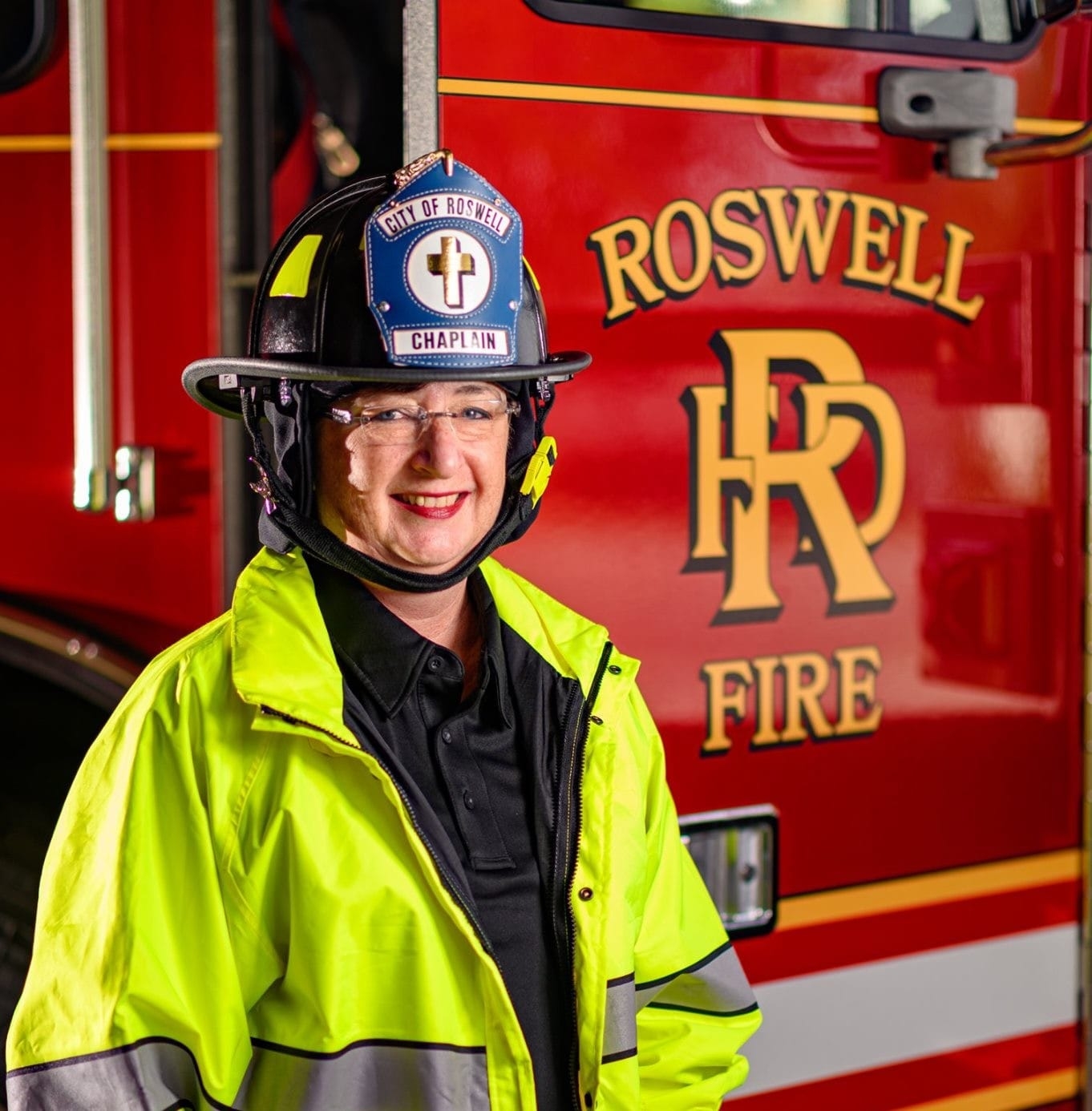 After a career in various public relations and marketing positions in college and professional sports and the hospitality industry, Dorie L. Griggs attended Columbia Theological Seminary, where she earned her Master of Divinity degree in 2002.
During her final year at Columbia, Dorie developed a model of chaplaincy for journalists who cover traumatic events. She has served as a volunteer with the Dart Center for Journalism and Trauma, an organization founded by Dr. Frank Ochberg, MD. She is the Chaplain for the Roswell, GA Fire Department.
Dorie served as the Communications Manager for the nonprofit, Faith And The City, from 2002-2004. In that capacity she produced the award-winning interfaith dialogue cable TV program, Faith And The City Forum.
She is the author of a self-care advice column for newspaper journalists, One-On-One, which appeared in the e-Letter of the Southern Newspaper Publishers Association in 2003-04.
Dorie completed a year as a chaplain resident through the clinical pastoral education (CPE) program at the Atlanta VA Medical Center in June of 2015. During her time at the VA Dorie received recognition for her work on the Surgical ICU team with the DAISY Team Award. She now serves on the Professional Advisory Group for the Office of Chaplain services at the AVAMC.
In April of 2014 Dorie was named the 2014 Pioneer in Ministry Award recipient by Columbia Theological Seminary in appreciation for her ministry of presence with journalists and for her support of parents of Citadel cadets. Read more here.
Memberships and organizations past and present: Parent Committee Chair, Atlanta Citadel Club; The International Society of Traumatic Stress Studies; The Ochberg Society for Trauma Journalism; a commissioned Stephen Minister and founding chair of the Military Ministry at Roswell Presbyterian Church; she was a committee chair for the Citadel Family Association, a support group for parents with cadets at The Citadel, the Military College of South Carolina. She is entering her 26th year as a press box volunteer with the Chick-fil-A Peach Bowl in Atlanta.
Her background in traumatic stress studies as well as being a Level II graduate of the Jeff Justice Comedy Workshoppe has helped her in her role as mother to 3 children: Nelson, a 2011 graduate of The Citadel, who recently left the Army as a captain in the U.S. Army, and is now working in Dallas, TX; Taylor the family comedian and bartender; and Chelle (pronounced Shelley) the actress of the family. Dorie is married to Stanley Leary, a freelance photographer.
You can contact Dorie here: [email protected]