NOTE: The Citadel staff is reviewing the required and Nice to Have Lists for the Class of 2021. This entry will be updated once the new lists are available.
Knobs line up in 3rd battalion to get their PT clothes. On Matriculation Day.
Each year in late May or early June the school posts their Matriculation Headquarters page. The incoming knob should read everything on this page, click every link and read everything on the linked pages. Knobs will soon learn that they, not their parents, are expected to know what is contained in these pages. Incoming knobs should check the page at least once a week for updates.
There are assignments due throughout the summer. The Office of the Commandant will update their Matriculation Information page soon too. (NOTE: As of this writing, 6/12/2016, the information is still from last academic year.)
The required list of items for knobs can be found on pages 6-7 of the Success Packet. Please note that cadets must be in uniform when in the area around the school. The knobs will learn the rules once they arrive. Knobs do not need any civilian clothes. You may bring comfortable clothes for them to wear in the hotel room when they are there. The first day they are given physical training clothes and their bathrobes along with a few other items.
The Citadel Family Association has a "Nice to Have List" posted to their website. Notes on those items are listed below the Success Packet list.
I have copied the list for 2020 knobs below in Bold and added tips next to the official items. In general knobs are very hard on their clothes. A few tips you'll hear from everyone is to get cheap sheets, but good socks. And break in the shoes before you arrive.
CLOTHING/PERSONAL ITEMS
All cadets are required to furnish their own bed linen except for the bedspread and one blanket , which will be issued. Beds and mattresses are provided, but pillows are not.
One plastic mattress cover will be issued at cost to each cadet.
All cadets (male and female) must bring the following:
One [1] pair of conservative style pajamas (optional) – Personal preference. many cadets sleep in their PT shorts and shirt.
Twelve [12] white, cotton, crew-neck tee shirts – Purchase snug fitting t-shirts. Many families send along double the amount of t-shirts. In the first few weeks when laundry is slow and they are exercising in the hot Charleston weather having extra means they will have a fresh change of clothes available.
Twelve [12] pairs of white cotton underwear – briefs, or boxer briefs (male) – White boxer briefs or briefs are available at Walmart, Target and other stores. 6 will be folded for their inspection drawer and never worn. Bring extra.
Twelve [12] pairs of white cotton panties (female) – NO thongs This is very straight forward. Wicking fabric is best since they do a lot of physical training throughout the year.
One [1] pair of "long johns" They wear this under their itchy wool uniforms later in the fall. Some don't wear them at all.
Twelve [12] pairs of black crew length socks – cotton socks are recommended. [Experience has proven that socks made of synthetic material contribute to blistering and in some cases secondary infections.] Gold Toe makes a good think black crew length sock. Families have had luck finding cheaper thick black work socks at Wal-Mart.
Twelve [12] pairs of plain white cotton athletic ankle socks (Socks must be void of visible logos or color, and must cover the protruding ankle bone. Low cut quarter socks are permitted.) While they say cotton you can find socks made out of wicking fabric that will help cut down on blisters. For the first time in years ankle length socks are required, not crew length. Good, thick socks, are a good idea. (NOTE: They will need socks to wear with their boots and ACU uniform. If you bought crew length socks the cadets can wear them with their boots or send along a few pair of boot socks.)
One [1] bathing suit, solid black or navy blue (female: conservative one piece) They don't wear them often but it is good to bring a swim suit. Lands End, Kohl's, Target and others carry them for men. Women's suits can be found in the competitive swim suit stores/brands
One [1] pair of shower shoes (black) 
Six [6] white, cotton towels – Buy inexpensive towels at Wal-Mart or Target
Six [6] washcloths – Buy inexpensive towels at Wal-Mart or Target
One [1] standard sized pillow – Send along their favorite pillow
Four [4] white pillow cases – 
Four [4] white, non-fitted sheets for a single bed – Regular twin size flat sheets. Wal-Mart has them. Do not send expensive sheets. They make their beds for inspection and sleep on top of the made bed. Some sheets end up as banners.
Twelve [12] white handkerchiefs – Plain white washable handkerchiefs can be found at Wal-Mart and Target
Toilet articles – They do not need a shower caddy. They should bring their own soap, shampoo, shaving needs.
One [1] pair of good running shoes in a subdued color such as white, navy, or black (may have contrasting trim) Bring shoes that fit the best in subdued colors. Some cadets bring two pair of running shoes and use them for all activities.
Three [3] pairs of black bike shorts (cotton spandex) for optional wear with physical training uniform – Compression/bike shorts without design or logos on the legs
One [1] pair of military style boots, sand colored with deep lug soles – boots must be sand colored with a plain toe. Boots made of patent leather or poromeric material are not authorized. Also, boots containing Marine Corps emblems are not authorized. The Cadet Store at The Citadel sells Bates brand boots, but large sizes may not be readily available. In addition to the Bates boots, some find the Nike and others brand fit well. They must be sand colored.
One [1] clear plastic storage container for under the bed. It must be sized 32″L x 11″H x 18″W. Note: Do not search for a container meeting these precise specifications. Instead, look for something smaller than 32″ x 11″ x 18″. The underbed box must be 32″ or shorter to fit under the bunk. Two must fit so do get something smaller than the sizes listed. A solid subdued colored lid is fine. Wal-Mart, Target, Home Depot, Lowe's, The Container Store Bed Bath and Beyond all carry containers.
One [1] overnight bag (or another clear plastic storage container) for additional items that will be kept on top of the full press is authorized. This bag or container 24″L x 12″H x 18″W. Most knobs bring the second clear bin. the 66 quart size usually meets the criteria. Wal-Mart, Target, Home Depot, Lowe's, The Container Store Bed Bath and Beyond all carry containers.
Two [2] pairs of military style, plain toe, smooth leather, black oxford shoes with rubber heels. You will not be permitted to wear shoes that fail to meet these criteria. Shoes made of patent leather or poromeric material are not authorized.
The school prefers that knobs wear the Bates plain toe black oxford made of polishable leather. Thorogood also makes a plain toe oxford. Some cadets like the Florsheim Lexington style plain tow black oxford. The Bostonian Kinnon style IS NOT approved because it has stitching on the heal. ***See the last few pages of the Success packet for expanded descriptions of the shoes and boots.***
Please ensure shoes and boots are "broken in" prior to arrival to avoid foot problems. Boots and shoes are available at The Citadel Cadet Store. Summer store hours are Monday-Wednesday 0700 to 1700 and Thursday 0700 to 1630. Call (843) 953-5166 to check on item availability. Boots and shoes must meet specifications. See the Cadet Store letter for details.
Additional items for female cadets:
Five [5] white, beige, or skin-colored regular bras
Five [5] white or beige sports bras
Labeling clothes: As a time saving measure, though not mandatory, it would be helpful to write your last name and first two initials in your clothing using a permanent marker. The location of the name should be inconspicuous when the garment is worn (e.g., bottom of each sock, rear waistband of underwear, and the front shirt tail of t-shirts). Household linens such as towels, sheets, and pillow cases should not be labeled. The Cadet Laundry will affix a permanent label to these items.
The following items may be brought with the new cadet or obtained later:
One [1] desk reading lamp
One [1] picture with frame – no larger than 8"x 10" Most knobs wait until after parents Weekend to bring a Frame
One [1] radio/stereo/CD player – Speakers must be no larger 12″x24″. It's a good idea to wait until Parents Weekend to send speakers
One [1] oscillating fan – Box or floor fans on a stand are not authorized.
Computer and printer – See the Computer Recommendations page for more information. Some cadets prefer to print off  papers in the computer labs or the library. Ask your son or daughter what they would like to do.
Alarm clock – They will not have their phones the first week. an Alarm clock would be helpful.
The Citadel does not furnish bedding. Cadets shipping their belongings to the college must bring with them two sheets, one pillowcase, and pillow for use until they can access their belongings.
LUGGAGE Trunks and suitcases can not be stored in cadet rooms. Only one overnight bag for overnight travel may be kept in the room. All other luggage is stored at the central warehouse at the risk of the cadet. Luggage may be shipped to The Citadel in advance of your reporting date. It should be clearly marked with the cadet's name and addressed to Central Supply, The Citadel, 171 Moultrie Street, Charleston, SC, 29409.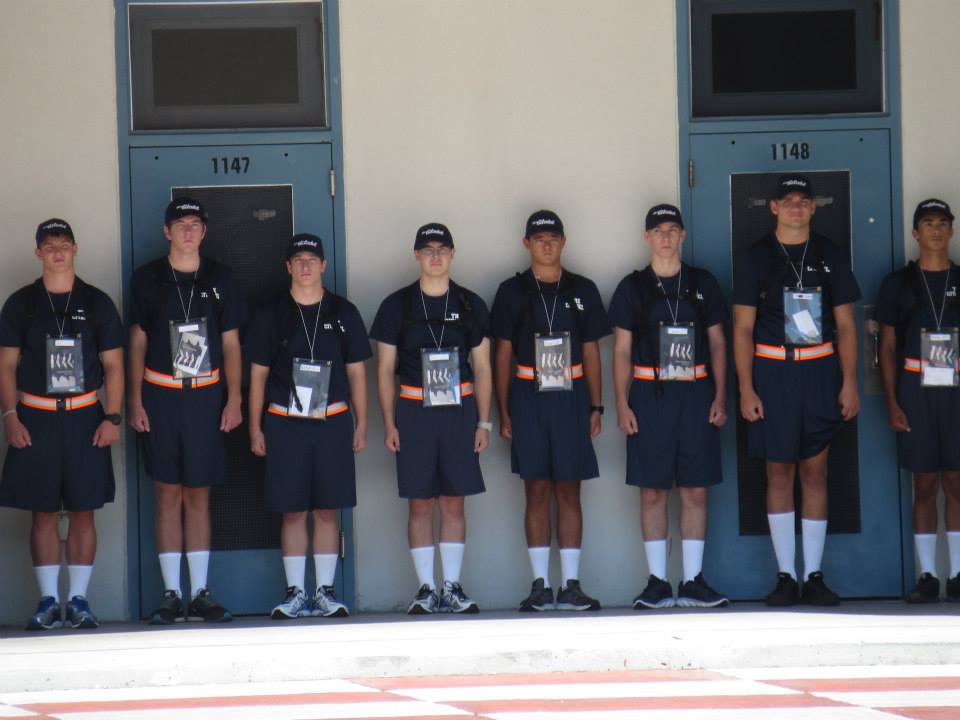 The Citadel Family Association "Nice to Have List." NOTE: Your son or daughter does not need everything on this list. I've made a few notes after some items. Check with your son or daughter and ask them if they want to bring these items.
CLASS ROOM SUPPLIES:
EXTENSION CORD

SURGE SUPPRESSOR/POWER STRIP WITH 3 OR MORE OUTLETS (for computer)

PENCILS, PENS, STAPLER, STAPLES, PAPER CLIPS

COPY PAPER FOR PRINTER

EXTRA PRINTER INK

HIGHLIGHTERS

PERMANENT BLACK MARKERS (used to label things that will be required)

CLEANING SUPPLIES:
DISPOSABLE SHEETS OR ONE (1) CAN OF PLEDGE OR ENDUST

DISPOSABLE SHEETS OR ONE (1) CAN WINDEX OR GLASS CLEANER.

DISPOSABLE SHEETS OR (1) CAN LYSOL

LAUNDRY SUPPLIES

FEBREZE FABRIC DEODORANT –

Used a Lot knob year.

SPRAY STARCH (1 CAN)

TIDE PEN & BLEACH PEN

IRON (Yes, we are serious!) –

No need to get an expensive iron just one that will stand up in the barracks.

IRONING BOARD (TRAVEL SIZE) –

While the cadets often prefer full size many companies do not allow knobs to have a full size ironing board.

TRAVEL SEWING KIT –

Send along a spool of white and black thread. They will sew on buttons.

""T"" PINS & ASSORTED SAFETY PINS –

Used to secure the sheets on their bunks. T-pins can be found online or in the sewing notions section of craft stores, Target and Wal-Mart.



MEDICAL:
EXTRA UNDERWEAR, T-SHIRTS, WHITE & BLACK COTTON SOCKS –

As noted on the Success Packet list

ADDRESS BOOK WITH ADDRESSES –

Just make sure they have the important addresses for family and friends in their phone or computer.

FIRST AID SUPPLIES: BAND-AIDS, FIRST AID CREAM OR SPRAY

TYLENOL, MOTRIN, TUMS, ETC., FOR MINOR MEDICAL NEEDS –

I would add, send long their preferred over the counter cold nad alergy medicines.

MOLESKIN BLISTER TREATMENT PADS

BUG & GNAT SPRAY (skin so soft) –

Very important
POLISHING SUPPLIES:
EXTRA CAN OF BRASSO (School will provide small can)

TWO (2) LARGE CANS OF BLACK SHOE POLISH (KIWI)

LINCOLN SHOE POLISH (BLACK)

HEEL n SOLE EDGE DRESSING FOR SHOES

JEWELER'S CLOTH (Sonshine brand works well)

SANDPAPER 2000, 1800, 1500 GRIT (Can be found in automotive section of store)

CLOTHS & RAGS FOR POLISHING BRASS AND SHOES: 100% COTTON

OLD TOOTHBRUSHES: TO BE USED FOR CLEANING

ROOM SUPPLIES:
LARGE PLASTIC DRINKING CUPS

GATORADE POWDER (CAN) OR OTHER DRINK MIX

POWER BARS, CRACKERS, SMALL SNACK ITEMS –

Some suggest that families mail them a care package their first week and not bring food on Matriculation Day

FLASHLIGHT, SMALL WITH EXTRA BATTERIES –

Many do not ever use the flashlight

MASKING TAPE; 1 ROLL 3/4″
Note: These items are not required, and most are available on campus at The Citadel. However, it is highly encouraged that these items be purchased prior to arrival. Freshmen/Knobs will be able to replenish these items when necessary as the semester progresses. Do not send an item unless it is found on this list or the official list received from The Citadel.
**One item not listed but that many cadets find helpful are shirts stays. They are elastic that attaches to the bottom of shirts and to the top of their socks to keep their shirts tucked and their socks up. There are several brands available.**
Parents of the Class of 2020, if you haven't already, please join the Facebook group: The Citadel: Parents of the Class of 2020. You will meet fellow parents and get up to date information and links to find photos and other information. You can also join the Facebook group for The Citadel Familiy Association (CFA).
Find Facebook groups for parents by regions of the country too. See this entry for a list.
Reporting to the 1st Sergeant on Matriculation Day morning: