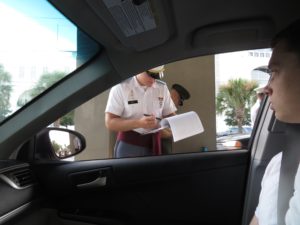 We are one week away from the day Class of 2021 report to The Citadel on their Matriculation Day. Hopefully by now the incoming knobs have read the Matriculation Headquarters page, and completed the necessary tasks. Parents of the Class of 2021 should be aware of everything on the headquarters page, but should really read through everything on the Freshman Parent section of the school web site.
A mailing with helpful information for parents from the Citadel Family Association (CFA) will arrive in the mail soon. The CFA is made up of current parents who volunteer their time to support new families. Once your student learns their company you'll have a company and battalion rep to support you. You can also find their contact information on the CFA web site.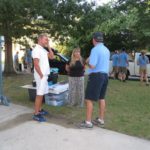 I moderate a Facebook group called The Citadel: Parents of the Class of 2021. We have a record number of parents in the group for this time of year. Membership is already over 630. The group is only for parents and guardians of knobs. Please let your extended family and friends know they cannot join the group, but they can follow the public pages the school runs to keep up with what is happening on campus.
This is the time of year I advise new parents to step away from the computer and spend time with their family. It can be a stressful time for many families, so much so that I end up writing a blog post about letting go each year around this time. I'll add a few links at the end of this entry.
I do understand how scary it can feel to send a child to The Citadel, or any military college. The key to remember is your student has chosen this type of college experience. If this is what they really want to do they have the skills necessary to be successful.
Trust me, when my son went to The Citadel I was extremely nervous. What I learned that first year is that I didn't have to understand why they do things the way they do. I was not a cadet my son was. He was the one that had to deal with the 4th Class system. To this day I can't say I totally understand the "why" around much of the process, but I have come to appreciate the outcomes. The Citadel was exactly where my son, and most cadets who choose to take on the challenge, were supposed to be.
If you are a parent worried about this first year, you aren't alone. A few words of advice. Try not to worry about things that haven't even happened yet, because most of the things you worry about will never happen. If you feel you need to speak to someone on campus the Parent liaison is one place to start: [email protected] The company and battalion TAC officers and the Ombudspersons are also great resources for parents.
If you find you are nervous and obsessing over the parent's Facebook page each day, walk away from the page for a while. Most likely by now your student has what they need to report on the 12th. Once you have read the Matriculation Headquarters , the Freshman Parent information page and the Citadel Family Association page you are set for next week. Read my previous post with matriculation day tips next week before you get to Charleston for a review.
I have walked your path as have scores of other families. We understand your fears, but also know how great the rewards are for those who stay and wear The Ring.
If you will be in Charleston the night of August 12, sign up for the 2021 Family BBQ dinner. It is a great way to meet other families.
On a personal note. . . this year our youngest is a college freshman. She moved into her dorm at Columbus State University yesterday. It was a completely different experience from her older brother's matriculation day in 2007. We are slowly adjusting to our new normal as empty nesters while still missing our girl.
Blog posts about my son's knob year and what I learned:
Mom Readies for Son's Military College
The Citadel: Year One a No Fly Zone for Hovering Parents
How The Citadel "Ya-Yas" Came to Be
Learning Leadership and Ethics at The Citadel
A few tips about knob year for parents:
Posts about letting go:
Uniformity, Lists, and Letting Go
Matriculation Day: The Hardest Part for Parents is Letting Go
Preparing for Knob Year – Parents Edition
Advantages of being the Parent of a Citadel Cadet