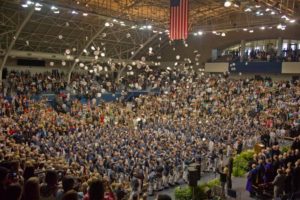 Graduation is a few days away. The weather is looking iffy for Friday, but the forecast changes daily. I've compiled a few tips for parents as they head to Charleston for this huge milestone celebration.
Have fun
Be sure you have your camera battery charged up. Bring extra memory cards/batteries.
Be prepared for rain with an umbrella and water repellant jacket or coat. Wear rain boots if you have them since it gets muddy with the rain.
Remember if it rains it WILL NOT dampen the spirits of the graduates (it poured for my son's long gray line. We all had a blast.)
Have Fun
When taking photos have one person in your party take a photo from one end of Summerall Field to get a good shot of the grads the complete length of the field.
The graduates go from being thrilled to be graduating to realizing that after Saturday the friends that have become family will be spread throughout the country and the globe. It helps to understand that their emotions can be all over the place this week.
Enjoy yourself
Before graduation on Saturday ask your senior where they will be sitting in relationship to the front dais (stage). They line up in alpha order, not by company, for graduation.
Decide where you will meet after graduation BEFORE graduation. Some meet on the floor of the field house other prefer to meet up outside. Some want to get photos with their friends at a specific place. Having a short conversation ahead of time can expedite the meet up after graduation is over.
I've enjoyed getting to know the parents of 2017 and hope to see many of you Friday and Saturday.