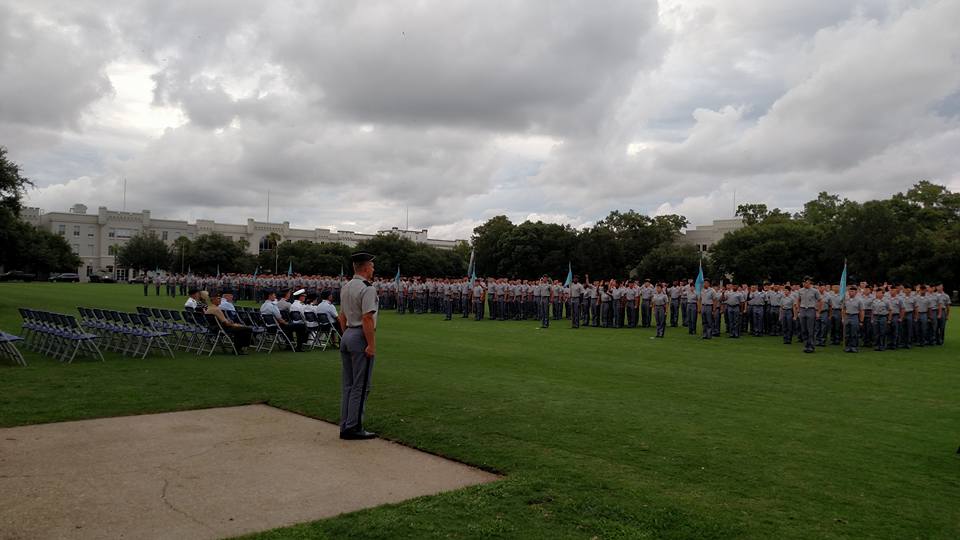 Since 2008 I've been supporting parents of cadets as a volunteer. First through The Citadel Family Association and since 2011 on my own through this blog and a few Facebook groups I started for new parents. In the past 7-8 years I've noticed a pattern emerge to the questions, problems and concerns that are raised by parents of first year cadets, or knobs as they are called.
The week after Matriculation Day the parents are aching for a glimpse of their son or daughter through photos posted on the school web site or related Facebook groups. This year I was on campus until Tuesday after Matriculation Day and managed to take quite a few photos.(see links below) A few academic offices and cadet activities in addition to the Citadel Photography Facebook page posted quite a few photos.
The next stage is right after the knobs get their phone and computer access. This stage is when various concerns come up with the parents, usually around food and sleep issues. Some knobs contact their parents requesting items they didn't bring with them. Related questions revolve around how best to ship care packages.
We are entering the period of time, a week into classes when the academic concerns begin to surface. Some knobs struggle with time management and feel over whelmed. It can be very hard for parents to hear the stress in their son or daughter's voice. The stress for many parents is the adjustment from being the person who helped their student through high school navigate their class schedule and assignments through conferences with teachers and counselors, to now empowering their cadet recruit to seek their own support by using their chain of command, their academic advisor, and the academic support office on campus.
As I pointed out in the blog entry, Learning Leadership and Ethics at The Citadel, the essence of being a leadership school is empowering students to take control of their experience. They will learn through a series of trials and triumphs. The temptation for many parents to assist is great. But parents must remember their child is at a school that values taking responsibility for ones actions. The best thing for parents to do is be their sounding board, not to take on their worries and concerns. The four years at the school will be filled with a rollercoaster of emotions. The key for parents is not to get on the rollercoaster with their child. You can serve as an observer offering tips of how to proceed, but not doing it for them.
Several years ago a former ombudsperson on campus told me how he helped cadets who came to him for advice. He said he would ask the cadet, who in their chain of command did they feel they could talk to about the problem/situation. If they didn't feel they could trust the advise from the chain of command what about the company TAC officer, then an academic advisor, academic support center, or professor and so forth. The cadets are taught the roles of each cadet officer. They also learn the steps to resolve a problem. The best thing a parent can do is walk them through the problem solving by asking the same type of questions.
As first year parents are learning they too are making adjustments to a new normal. It isn't just their cadet recruit. The school also has resources available for parents if they have concerns. The offices are located on the Office of the Commandant page under the H.E.L.P. link. If a parent just needs to talk to a fellow parent, the Citadel Family Association has parent volunteers who serve as company and battalion representatives.
The first year is one of many adjustments and "learning experiences" for both the knobs and their parents, but support is available.
Links to my photo albums follow:
Matriculation 2015 Sunday photos and Meet the Bulldogs
Monday after Matriculation Day
Photos by Stacy Carter Studios (much better quality then my snap shots!):